Top Healthcare and Pharmacy Advertisers Turn to Radio / Cable TV
New analysis from Media Monitors reveals that St. Jude Children's Hospital and CVS were the top advertisers for health and pharmacy retailers in September. Both organizations increased the number of radio, television and cable television spots for the month, compared to August.
Ranking number one among all advertisers, St. Jude Children's Hospital ran 85,799 spots in September, up from 73,302 cases in August, according to Media Monitors advertising data covering the period August 1, 2021 to August 1, 2021. September 30.
CVS, the second-largest advertiser in the category overall, was the leading radio announcer, broadcasting 64% of its total instances in audio. . The company increased the number of spots aired on all three media channels in September – 53,520 – from 48,705 in August. The drugstore retailer broadcast 34,313 radio spots, a 33% increase from August, while reducing the number of its shows on local cable and television.
Last month, CVS reported in its second quarter results that customers are starting to return to more normal purchasing habits and the use of healthcare benefits is reverting to more typical or pre-pandemic patterns.
"The broader trends in healthcare remain persistent, even as the pandemic continues. To achieve their operational goals, pharmaceutical and healthcare organizations know that advertising is still the most effective way to reach their target audience, "said Philippe Generali, President and CEO of Media Monitors. "In September, advertisers turned largely to radio and cable television to drive results."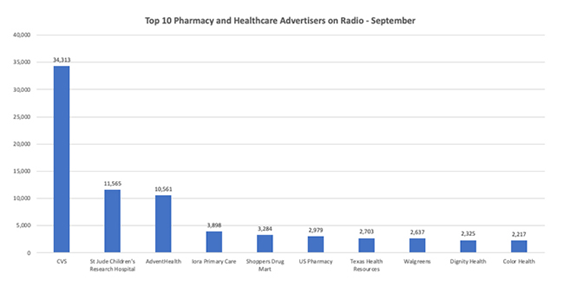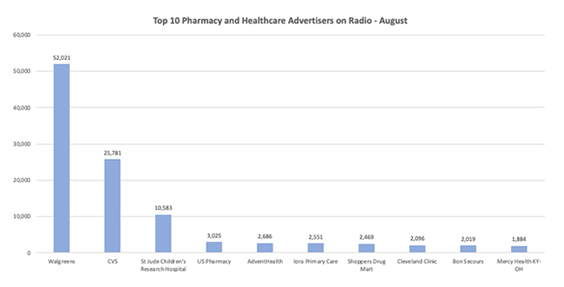 With 56% of the U.S. population vaccinated against COVID-19 and the flu season approaching, Walgreens – the third-largest advertiser in September – focused its advertising on radio in August and cable TV in September.
Last year, with COVID restrictions like masking and social distancing still in place, influenza cases declined dramatically – from 38 million in the 2019-20 flu season to 2,038 cases in 2020-2021, USA Today reports. Now, however, with students returning to school, more people venturing out, and venues for concerts, movies and other events opening up, Walgreens is promoting both COVID vaccines and flu shots. The advertiser launched a campaign, "Before you go, start here", to encourage vaccinees hesitant to get vaccinated. Although most of its commercials in August focused on radio, the new campaign will include television broadcasting. In contrast, CVS aired the majority of its radio spots during the two months.