Main lessons from this analysis:
Meta Platforms will release Q2 results on Wednesday, July 27.
The company faces many challenges, but this is reflected in the current valuation.
However, there is still a lot of uncertainty about Meta's long-term growth potential.
Metaplatforms (NASDAQ: META) the share price fell 7.6% on Friday after SNAP Inc. (NYSE: SNAP) Q2 financial results indicated a slowdown in digital ad spend. The prospect of a recession could also put additional pressure on the advertising industry. The market already expects Meta's EPS to be down around 29% year-over-year and revenue to be flat or slightly lower. Some analysts now think the results could be worse than expected.
Current challenges
It's no secret that Meta faces a number of challenges. Besides the slowdown affecting the entire advertising industry, we can summarize these challenges as follows:
With nearly 3 billion users, the company is no longer adding users at the rate it used to. In fact, in February, the company reported its first-ever drop in user numbers.
Meta and other social media platforms are facing increased competition from TikTok.
Changes to Apple's iOS operating system have prevented Facebook from targeting ads as effectively as it could in the past.
Meta's pivot to the Metaverse cost the company $10.2 billion (and counting) and that investment could take years to show a return.
Concerns about poor ethical leadership and possible antitrust action.
Check out our latest analysis for meta platforms
Is meta cheap?
To offset these well-known challenges, the stock price is already 57% below last September's record high. It now trades on a price/earnings (P/E) ratio of 12.7x, which makes it attractive relative to its peers and relative to its own historical valuation.
The chart above shows the analysts' average price target of $169 in 12 months, which is 39% above the current price. However, confidence in this price target is low as there is very little agreement among analysts on where the stock will trade in a year from now. Consensus among analysts diverged in February when the company reported a drop in user numbers.
Below we can see how big the gap is between the lowest and highest EPS estimates for the end of 2024. With an expected EPS between $10.20 and $19.4, the P /E futures could be as low as 8.8x or as high as 16.5x, averaging 11.34x.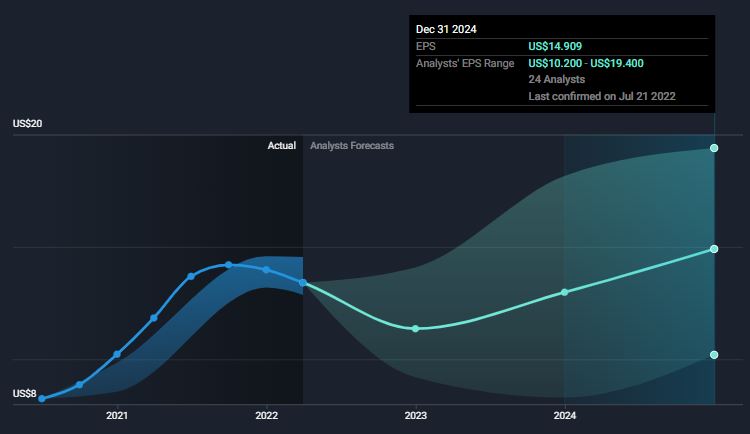 What does this mean for investors?
The AP/E ratio of 12.7x is low even though growth is expected to be weak – but current forecasts imply that the upside may be limited. Generally, we would like to see the P/E ratio going forward significantly lower than the current P/E ratio. The lower forward C/E of 8.8x implies a substantial upside, but the middle and upper forward ratios imply a more modest upside.
At this time, analysts and investors don't know what the future of Facebook will look like, and that's reflected in these predictions. Meta is widely considered cheap and has even been added to the Russell 1000 Value Index. If market sentiment improves or the sector experiences a limited slowdown, there could well be a recovery, but Facebook's long-term historical returns may not be repeated if there is no clarity on future earnings growth.
This article only discusses the current valuation and growth expectations of Meta. If you are interested in understanding the business on a deeper level, take a look at our full analysis which includes some of the other factors to consider.
Feedback on this article? Concerned about content? Contact us directly. You can also email the editorial [email protected]
Simply Wall St analyst Richard Bowman and Simply Wall St have no position at any of the companies mentioned. This article is general in nature. We provide commentary based on historical data and analyst forecasts only using unbiased methodology and our articles are not intended to be financial advice. It is not a recommendation to buy or sell stocks and does not take into account your objectives or financial situation. Our goal is to bring you targeted long-term analysis based on fundamental data. Note that our analysis may not take into account the latest announcements from price-sensitive companies or qualitative materials.