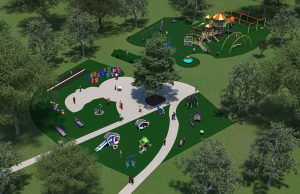 GREENSBURG, IN — On Thursday, Gov. Eric Holcomb announced the quality of venue projects and programs beginning to move forward across the state. The Greensburg/Decatur County Inclusion Park was introduced as a project the state wanted to support by allocating $250,000 to the local project.
"We are very pleased to learn today that the State of Indiana has chosen our project to present to the rest of the state. Thanks to the grant we received, this brings us closer to the realization of our project," said Inclusion Park Director, Brendan Bridges.
The inclusion-focused park, to be developed in Rebekah Park on the east side of Greensburg, will be a universally designed, sensory-rich environment for children of all abilities to interact and play.
The inclusion park will include equipment designed for children of all ages and abilities, supporting physical, social and emotional development. It will also welcome adult participation, making it fun and welcoming for residents and visiting families.
With construction slated to begin this fall, particular emphasis will be placed on physical amenities, such as meeting ADA accessibility requirements; engaging the senses so children can explore the space and integrating with other Rebekah Park features to support the inclusion of all children using its spaces.
"We want all individuals to work together and bring a sense of inclusion to our community," Bridges said.
Thanks to this donation, more than $530,000 was raised for the inclusion park. Bridges said funding for the park is more than 75% complete and the committee is awaiting construction and installation costs.
"We are still waiting for the construction cost, but we believe that we will have the final cost of the project by the end of the week. We would like to thank the community for all their continued support, we are almost at the finish line ", did he declare.
The Greensburg/Decatur County Inclusion Park Committee would like to thank the State of Indiana and the Regional Economic Acceleration and Development Initiative (READI) for their grant
initiative.
If you would like to continue supporting the Greensburg/Decatur County Inclusion Park, you can send donations to the Decatur County Community Foundation, 101 E Main St., Suite 1, Greensburg, In 47240. You can also donate online at dccfound.organd be sure to enter "Decatur County Inclusion Park Fund".
(Greensburg/Decatur County Inclusion Park Press Release)