Captain Njoroge wa Njeri's name may not ring a bell in the minds of Kenya's 21st century generation. Njoroge was affectionately known as CNN, during his tenure at the Kenya Broadcasting Corporation (KBC) as a vernacular radio presenter.
Njoroge's move to the national broadcaster earned him fame and admiration after working with legends such as Waithira Muithirania, Simon Mburu (Man Saimo) and James Wang'ombe (Kata).
However, the reporter left the country in search of greener pastures and eventually launched a one-of-a-kind vernacular station in the United States – Jambo Boston Radio.
The entrance to KBC's main office is located along Harry Thuku Road, next to University Way in downtown Nairobi.
To file
But how did the veteran journalist venture to the United States?
Njoroge's journey dates back to Limuru where he was born and raised. The reporter studied at St Paul's Primary School before joining Kanunga High School for his KCSE certificate.
He then obtained a degree in public relations at St Paul's University. Njoroge started his career as a priest, but immersed himself in journalism soon after being employed at Radio Sayare, a Christian radio station, in Eldoretto.
He worked at the station for three years, then moved to KBC Coro FM. At the famous station, he received a show on Mondays and Tuesdays and another show on Sundays.
After nearly a decade on the radio, Njoroge packed his bags and moved to the United States in 2013.
Njoroge was initially on a travel VISA, but decided to stay after landing a few menial jobs. In addition, Njoroge joined three Kenyan bishops to develop and launch Jambo Boston Radio.
"In Sayare, I spoke both English and Swahili, but we decided that Boston had a market for Kikuyu-based conversations and discussions," he said.
Njoroge then moved from Boston to Arizona in order to obtain another degree at Grand Kenyon University.
The famous journalist has also created his own ministry, Trumpet of Hope, which currently offers online streaming services.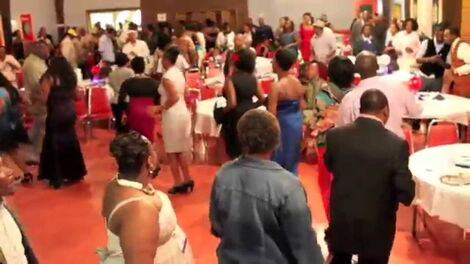 A screenshot of the launch of Jambo Boston Radio in the United States.
To file